The Ways & Means Committee of the Westport Woman's Club is responsible for devising and executing plans for raising money to meet authorized philanthropic commitments of the Club.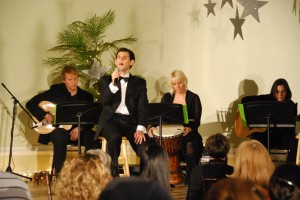 Waiting in the Wings Cabaret Season Opens to Sold Out Crowd
The Waiting in the Wings Cabaret launched the 2012 season with an evening of Broadway and Jazz Classics performed by rising New York performers Andrew Keltz and Andi Alhadeff.   Accompanied by a full band, the duo sang solo and duets that entertained a full house at the opening show.  Bedford Middle School students, Brandon Rakowski and Zoe Samuels brought some hometown flavor with their performance of You're the Top.
"It was a great evening," said Mary Lee Clayton, Westport Woman's Club President.  "Guests had the opportunity to enjoy appetizers, compliments of Matsu Sushi and Blue Lemon, and have a glass of wine while watching the show.  All proceeds go to support the Westport Woman's Club Student Scholarship Fund."  Additional shows featuring new performers are in the works for March 17 and April 28.
Special thanks for the evening to go to Castle Wines and Spirits for providing wine and to the Community Partners participating in the Scholar Dining Dollars program: Bobby Q's, Blue Lemon, Da Pietro's, Matsu Sushi, River House and Rizzuto's.
  **********
 
WWC's Waiting in the Wings Cabaret is a celebration of emerging New York talent, showcasing young performers ranging from aspiring comedians and musicians to Broadway hopefuls in an intimate cabaret setting.
Love's Funny is the debut of this series, an entertaining evening of sweet and silly love songs and comedy sketches with a Valentine's Day twist. With the Waiting in the Wings series, the Westport Woman's Club (WWC) provides both a performance outlet for up-and-comers and an opportunity for the community to see the stars of tomorrow up close and personal.
**********
Waiting In The Wings Cabaret – Midsummer Night's Dreamin'
The Westport Woman's Club spirited it's audience  into summer with an evening of live entertainment featuring performances by some of New York's most promising rising stars. WWC's Waiting in the Wings Cabaret: Midsummer Night's Dreamin',  a magical, merry evening of classic and original songs and comedy sketches that salute the summer season took place on June 25, 2011.