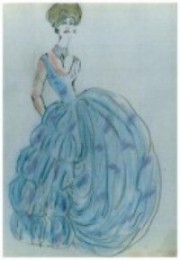 DRESSING UP: Westport Style which took place on , Friday, October 12, 2012, was a great success.¬†¬†The Westport Woman'Äôs Club(WWC) in collaboration with The Westport Historical Society(WHS) presented its¬†premier fundraiser where yesterday's fashion meets today's style.¬† The evening consisted of¬† entertainment, appetizers, a fashion show, special demonstrations, hair stylists, makeover artists and fabulous prizes.
Local retailers were on hand chatting about accessorizing and simple tricks to update wardrobes to achieve the latest runway look. Make-up and hair stylists advised attendees on how to get a glowing and chic style.
Wine and appetizers were served  in the warmth of the Club living room and historical costumes were provided by the Historical Society.
Harriet Mays Powell and Leah Scherzer of Westport, moderated during the fashion show.  Harriet Mays Powell began her fashion career working for several magazines from editor to senior editor positions, including Glamour, New York Times Magazine, Fashion of the Times, Elle and as Fashion Director of New York magazine. Today, she is the Editor in Chief, creator and owner of her own 'The Look Now' online award winning Fashion magazine.
Participants and Sponsors included:  Aux Delices, Benefit, BODYTALK, The Brownstone, Two B's Accessories, Catamount Wealth Management, Collyer Caterering, Cooking-In and Spa & Sprinkles, Dress Code, The Delamar Hotel, Fresh Market, Greg & Tony Hair Salon,  Phillip Bruce Salon, Vintage Virtuosa, Westport Spa & Nails, Ag Designs (sponsor), Chic Jolie,  CT Bites, Stew Leonard, Stiles, and Tarry Lodge.