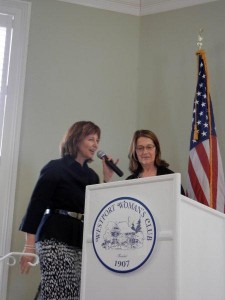 Lisa Wexler, award winning creator of The Lisa Wexler Show, the most popular talk radio show in Fairfield County, CT, spoke to the Westport Woman's Club at the February 6 Club Day Luncheon.
Ms. Wexler, a talk radio host, attorney, advocate, author and public speaker, she is a master at communicating information in an entertaining way.
One of her passions is to bring greater visibility to a news topic she believes is underreported.  The privacy policy that Google plans to put in place on March 1 is one such topic.  Per Ms. Wexler, while an individual's privacy is legally protected with regard to things like personal "snail" mail and history of what books you check out of the library, privacy of email and search history (among other things) through Google, will no longer be protected.  She encouraged her audience to become familiar with the new Google policy and how it will affect them.
The Connecticut Press Association gave The Lisa Wexler Show top prize as Best Radio Show in Connecticut in 2011.  You can hear the show every Monday – Friday, 4-6 PM at AM 1230 WFAS as well as via internet streaming on lisawexler.com.