The Ruegg Grant Committee of the Westport Woman's Club invites local non-profit organizations to apply by Friday, March 8, 2019, for up to $10,000 in one-time funding for a 2019 project. Submitted proposals should be high-profile initiatives that make a meaningful difference in the Westport community.
2019 Ruegg Grant Application. This grant, established in 1995 by an endowment left to the club by former member Lea Ruegg, considers an annual grant to a deserving organization's project that enhances social services, health, safety, the arts or education. Recent Ruegg Grant beneficiaries include the Westport Astronomical Society, Project Return, Earthplace and Wakeman Town Farm.
Community groups with impactful and meaningful projects for this year should submit their completed project proposals and relevant financial information by Friday, March 8, 2019 to the following address: Westport Woman's Club, c/o Ruegg Grant Committee, 44 Imperial Avenue, Westport, CT 06880.
Other forms of the Westport Woman's Club "here and near" philanthropy include local community service grants, need-based college scholarships for Staples High School seniors, food closet (in partnership with Westport Human Services), annual Canal Park luncheon, subsidized rent for CT Braille, Bedford Hall usage grants for nonprofits, and many hours of volunteer service. Please visit the WWC Community Services Page to learn more.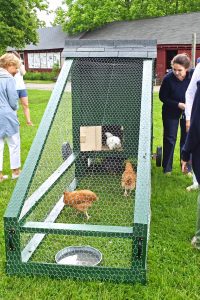 The Westport Woman's Club awarded their 2018 Ruegg Grant
to Wakeman Town Farm for the purchase of an innovative
Mobile Chicken Coop that aids in soil fertilization.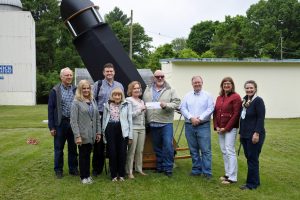 Members of the Westport Woman's Club Ruegg Committee awarded the
2017 Ruegg Grant to members of the Westport Astronomical Society Board.
The Ruegg Grant purchased a solar telescope for the Rolnick Observatory,
with great anticipation for an upcoming solar eclipse, as well as ongoing
viewing with astronomy enthusiasts in the Westport community.