The Westport Woman's Club presented scholarships totaling $38,000 at their annual Scholarship Awards ceremony on Thursday, May 23rd. Recipients were Staples High School Seniors, and an adult woman pursuing a secondary education. Thank you to our 2019 Scholarship Chairperson, Wendy McKeon, and her committee for all of their dedication to the application review and interview process, and for coordinating this morning event that honors these inspiring students.
"Woman's Club Awards College Tuition Grants" post on WestportNOW Click here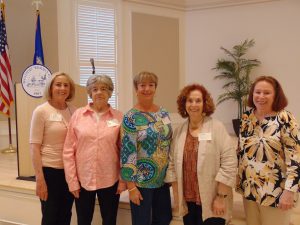 2019 WWC Scholarship Awards Committee
(L-R) Catherine Smith, Sandy Atwood, Wendy McKeon
(Chairperson), Audrey Rabinowitz, Kim Reichert
(missing from the photo, WWC member Barbara Szefc)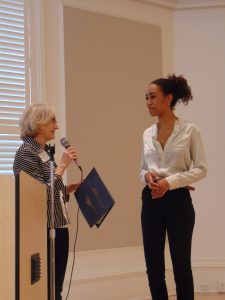 "Most Active" WWC Member for 2019, Susan Loselle,
awarding the scholarship in her honor.
SLIDE SHOW ~ 2019 Scholarship Awards