The Westport Woman's Club hosted their New and Prospective Members Wine and Cheese on September 28 at 5 p.m. at their historic clubhouse at 44 Imperial Avenue, Westport. Attendees learned about the many philanthropic and social activities the Club is involved in.
The Westport Woman's Club (WWC) is a non- profit organization dedicated to volunteerism and the raising of funds in support of charitable, educational, cultural and public health services in Westport and surrounding towns. Founded in 1907, the WWC achieves its goals through various fundraisers, including the Yankee Doodle Fair and the Curio Cottage Thrift Shop. Other fundraising activities are spearheaded by the active Ways and Means Committee.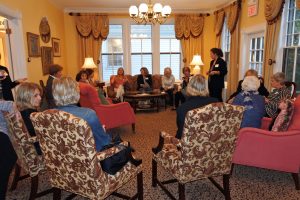 The WWC also offers a variety of social events and special interests groups to appeal to a diverse group of women. Enjoy a gourmet lunch outing, get your hands dirty with the Garden Club, get energized with Zumba classes, play Mah Jongg, Bunco or Bridge. This is just a sampling of activities that the club has to offer. General membership meetings are held monthly with a catered lunch and a guest speaker.
Membership is open to all women 18 or older in Westport and surrounding areas.