SERVICE has been the hallmark of the WWC
from the very beginning in 1907 and still is today.
Over the years an amazing and impressive number of hours and dollars have been generously given by countless WWC members to improve the lives of their neighbors, both in Westport and greater Fairfield County. The Community Services Committee exemplifies the core mission of the WWC and all members are automatically members. It is also the vehicle through which WWC grants to area non-profit organizations are vetted and approved each year. In addition, the many service projects that the WWC members currently participate in are all under the auspices of this key committee. The Community Services Committee work falls into three main areas: Grants, Scholarships and Service Projects.
Scholarships:
"The first scholarship was awarded in 1925, and each year thereafter a special scholarship committee consulted with the principal of Staples High School to decide on a designee." The amount and number of general scholarships vary by year according to the funding available and the qualifications of the applicants.

Service Projects:
The WWC has taken part in many different services projects since 1907. Descriptions below of current service projects are designed to help members identify which projects they are interested in working on.
Canal Park Luncheon: WWC members prepare a spring luncheon for residents of Canal Park, a residence in Westport for seniors and disabled singles and couples of any age.
Food Closet: In 1975, the WWC started an Emergency Food Distribution Program, under the leadership of the Westport Department of Human Services, to aid town residents in need. It is now known as the Food Closet and continues to this day; over 500 bags of non-perishable food are supplied by the WWC Food Closet each year.
The WWC participated in Westport's Beautification Day 2015

Holiday Programs:
Holiday Food Gift Cards: This program provides grocery store gift cards in November and December to local residents in need of assistance. In addition, this program reaches out to residents of assisted living facilities with a thoughtful card at holiday time.
Holiday Meals: Hot meals are provided to shut-ins on Thanksgiving, Christmas, and New Year's Day. The list of recipients is generated by the Westport Human Services Department and the program is funded 100% by the WWC.
Holiday Toy Drive: This is a toy collection drive to benefit children and teens in need served by Children's Connection in Norwalk.

Westport Community Events
WWC members MAKING STRIDES Against Breast Cancer – October 2018
On Sunday, October 14th, Westport Woman's Club members and friends raised funds and participated in the American Cancer Society's MAKING STRIDES Against Breast Cancer Walk at Sherwood Island State Park. This annual Fairfield County fundraising event draws thousands of participants. Thanks to WWC member Audrey Rabinowitz for organizing our club's participation again this year. Link to westportnow post:
Other Community Projects that the WWC has participated in recent years:
Westport Library Book Sale held twice a year and the Downtown Merchants Association's event, Blues, Views and Barbecue Festival 2016.
===============================================
WWC COMMUNITY SERVICE GRANTS FOR 2019
In May 2019, a total of $33,000 was awarded by the WWC Community Services Committee to an array of local and deserving charities.
Arts – Outreach Programs
Norwalk Youth Symphony
Westport Community Band
Westport Country Playhouse
Counseling
The Center for Family Justice, Inc.
Greater Bridgeport Area Prevention Program (GBAPP)
Liberation Programs, Inc.
Education – Children/Youth
Adam J. Lewis Academy
Caroline House
Hall Neighborhood House
Mercy Learning Center
Norwalk Housing Foundation
Urban Impact
The Westport Library
Young Life / Young Lives
Food and Clothing
Bridgeport Rescue Mission
Connecticut Food Bank
Family & Children's Agency (FCA)
General Needs Based Aid & Action
Person-To-Person (P2P)
Health – Assistance and Education
Breast Cancer Emergency Aid Foundation, Inc.
CancerCare in CT
Circle of Care
Norwalk Community Health Center
The Rowan Center: Sexual Assault Crisis Counseling & Education
Visiting Nurse & Hospice of Fairfield County
Housing – Adults and Young Adults
Domestic Violence Crisis Center (DVCC)
Homes with Hope
Keystone House
Seniors
ElderHouse, Inc.
Westport Human Services: Project GO
Special Needs: Children, Young Adults
Circle of Friends
CLASP Homes
Women's Enrichment & Training
Burroughs Community Center
Women's Mentoring Network
Bedford Hall Grant
Connecticut Master Gardener Association (CMGA)
==================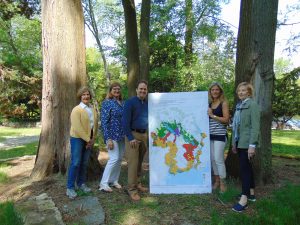 A 2019 Ruegg Grant Award of $10,000
went to Aspetuck land trust to help sponsor
their "Green Corridor: Saugatuck to Shore"
program, focusing on "Westport: A model of Change."