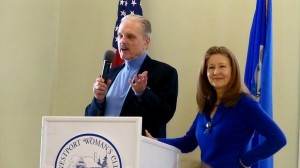 Keir Dullea and Mia Dillon Address at the Westport Woman's Club
 Keir Dullea and Mia Dillon entertained a full house at the Westport Woman's Club March Club Day Luncheon with stories of their acting careers and their shared life.
Mr. Dullea engaged everyone with an anecdote about a visit to a fortuneteller who asked if he was a scientist or engineer.  When he said neither, the fortuneteller said that for whatever reason, he was seeing spaceships in his reading for him.  Days later, Mr. Dullea received a call offering him the part of David Bowman in the movie 2001: A Space Odyssey. He recalled the thrill of being selected for the part and of working with the acclaimed director Stanley Kubrick.  Despite the recognition that came with that iconic film, his favorite movie part was playing David in David and Lisa, directed by Westport native Frank Perry, which is the movie he credits with putting him "on the map."
"Being an actor prepares you to be versatile and handle unemployment," quipped Ms. Dillon.  Bitten by the acting bug the first time she got a laugh out of the audience while in a school play, she credits her tenacity with driving her success. She was cast in her first off-Broadway play when she braved a blizzard to get her photo to a casting director.
The couple worked together and established a professional friendship.  They lost touch and reconnected years later and married in 1999.  Immediately after marrying, they co-starred in a production of Deathtrap where his character killed her character night after night.   They both joke about the fact that it wasn't much of a honeymoon.
Mr. Dullea and Ms. Dillon continue to be active in their professional careers, largely focused on live productions.  Ms. Dillon is involved in the Actors Center in New York City and has established a successful second career doing acupuncture.  Mr. Dullea co-founded the Theater Artists Workshop of Westport (now located in Norwalk).  Both actors are currently involved with the organization which is celebrating it's 30th year.
The Westport Woman's Club, organized in 1907, is a non-profit philanthropic organization dedicated to volunteerism and the raising of funds in support of the educational, charitable, cultural and public health services in Westport and surrounding towns.