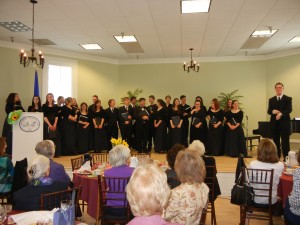 Staples High School Orphenians Perform at WWC April Luncheon
The Staples High School Orphenians helped the members of the Westport Woman's Club celebrate spring with their performance at the WWC luncheon on April 2.
Choral Director Justin Miller led this elite group of upper classmen in a lovely series of a capella melodies that allowed their vocal talent to shine.   They sang a variety of songs including "A Parting Blessing," based on an Irish proverb, and "Ride the Chariot," a wonderful spiritual that has been performed by the Orphenians through the fifty-year history of the group.  A special cameo performance of "Agony", a number from the Staples Players show "Into the Woods" was sung by Charlie Greenwald and Tyler Jent accompanied by Danny Pravder on piano.