In the Westport Woman's Club's first-ever "live" Talk Show, "16 Minutes," award-winning fine art and editorial photographer Stacy Bass was interviewed by WWC president, Dorothy Curran during the Sept. 8th Club Day luncheon. Focusing on Stacy's latest book, Gardens at First Light, this ground-breaking interview covered her Westport roots, family tree and the real dirt on garden photography.
Audience Q & A followed  the interview. Books were available for purchase and signing by the photographer.
Stacy is known for capturing the essence of a place through an intuitive use of light, color and composition. Her award-winning images of architecture, interiors and gardens have been featured in three solo exhibitions and reside in private and corporate collections. They also have been published in At home, Garden Design, Luxe Interiors + Design, House Beautiful, Horticulture, Living Etc., British Homes & Gardens and many more. Stacy's first monograph celebrating the American landscape, In the Garden (Melcher Media/Perseus Books) was released in May 2012 to outstanding reviews and has sold out. Her second book, Gardens at First Light was released in May 2015 and quickly became a bestseller.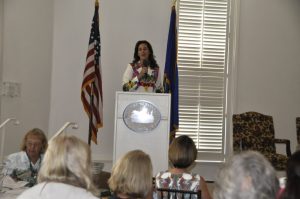 Stacy Bass (contributed photo - Phyllis Groener)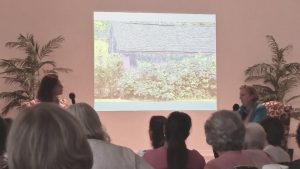 Stacy Bass and WWC President, Dorothy Curran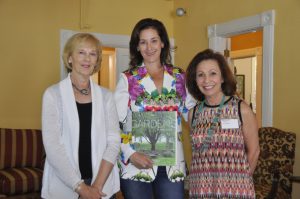 Jeannette Tewey, Stacy Bass and Vivian Rosenberg (contributed photo - Phyllis Groener)