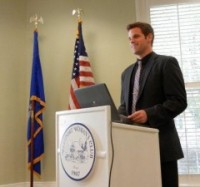 The Westport Woman's Club hosts FULL COURT PEACE FOUNDER, MICHAEL EVANS
Michael Evans, founder of and Executive Director of Full Court Peace, addressed the Westport Woman's Club at their June 6 luncheon.  Full Court Peace is a non-profit devoted to the proposition that at-risk youths from diverse backgrounds who compete together can become positive agents of change in their communities.
While in eight grade, Michael played on a traveling basketball team that integrated youth from the more affluent Fairfield County communities with students from less privileged towns.  Learning first hand how difficult life was for others had a lasting impact on him.   After graduating from Hamilton College in 2005, where he played for and captained the Men's Varsity Basketball Team, Michael moved to Northern Ireland.  There he pursued a semi-professional basket­ball dream, coupled with community work in Belfast, the nation's capitol and the world's most segregated city. Michael shared the story of how he formed the "Belfast Blazers," the first ever high school basketball team comprised of an equal number of Cath­olic and Protestant members. These youth were from extremely segregated backgrounds and neighborhoods and were tied directly to the city's terrorist groups. The team went on to lose just one game in their controversial season together and built lasting bonds that bridged the segregation and hostility inherent in their communities. Several film companies are now considering the story of the "Belfast Blazers" for feature film production.
Michael has since gone on to explore the role of basketball in other troubled societies, founding Full Court Peace and developing programs in Ciudad Juarez, Mexico, the world's deadliest city, and Havana, Cuba.
Michael is now planning to bring his brand of bridge building and team building closer to home.  Fairfield County has one of the widest achievement gaps in the country.  Youth from neighboring towns and cities have drastically different public education and athletic experiences – creating diversity and boundaries that mirror the challenges that Michael has seen abroad.  Full Court Peace is planning on launching a new program, based on their successful international program, in Stamford, CT.  To learn more about Full Court Peace and to support their work, you can visit www.fullcourtpeace.org.
Michael was selected by CNN's seg­ment "Young People Who Rock" in 2009.  He has been selected to be a blogger for the Huffington Post, where he writes about the politics of sports in Mexico, Northern Ireland and the rest of the world. Michael is a 2005 graduate from Hamilton College, a recent graduate from Harvard's Kennedy School and the Graduate School of Education and was a Graduate Assistant of the Men's Basketball Team. The Harvard Crim­son won its first Ivy League title in school history.