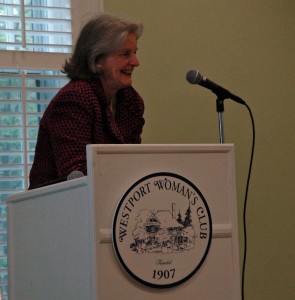 Natalie Ryshna Maynard, Concert Pianist, Addresses the Westport Woman's Club
Natalie Ryshna Maynard, concert pianist and educator, was the guest speaker at the Westport Woman's Club May Club Day luncheon.  Ms. Maynard spoke about the life of Olga Samaroff Stokowski, the "Eleanor Roosevelt of classical music in America," sharing some of her personal memories of Ms. Stokowski and the musical era she influenced.
Ms. Maynard's relationship with Stokowski began when she attended the Philadelphia Conservatory of Music, and won a seven-year Fellowship at the Juilliard Graduate School of Music to study piano with Sascha Gorodnitzki and Olga Samaroff Stokowski.  Ms. Stokowski summered in Westport in the 1940's and prepared her Juilliard students in a rehearsal barn on North Avenue. She became the most famous woman concert artist of her time. She actively promoted the career of her husband, conductor Leopold Stokowski, and was largely responsible for catapulting his conducting career to international acclaim.
Ms. Maynard, who now teaches music to students in Westport, contributed to and performs in the recently released DVD "American Virtuoso" about Olga Samaroff Stokowski.