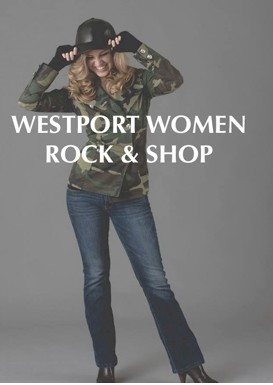 There is New York Fashion and there is Paris Fashion. On Friday, October 18th, The Westport Woman's Club will bring you Westport Fashion with a cast of fit and fabulous hometown models we will recognize strutting the stuff of Designer Lauren Dinardo.
"WESTPORT WOMEN ROCK & SHOP" promises to be spectacular! It will include an evening of Boutique shopping and a Fashion Show of original designs with a lineup of models who include, the fit and fabulous: Kitt Shapiro ,Eartha Kitt's Daughter & Entrepreneur; Randi Lehrman, Business Development W2W; Alice Lipson, Past Director Choral Staples HS; Lisa Parrelli Gray, President Westport/Weston Chamber of Commerce; Susan Gold, Executive Director WHS; Judith Marks-White, Columnist Westport News; Liz Beeby, artist; Jenn Bond Huisking, Financial professional whose focus is on simplifying womens' finances; Lauren Aber, Manager Terrain; Jill Franke, Actress; Elizabeth DeVolls, Director Education WHS; Grace Wynne and Riley Thrush, Staples Students. Commentator Lisa Wexler, Attorney.
Hair and Make-Up compliments Effi's Salon.
'Women that Rock' is the theme of all Dinardo's work, and in keeping with that, the runway will feature an electrifying fusion of sophistication. Her collection is a refreshing spin on Classic American Style and Rock and Roll. It will include her signature tailored denim pieces and vintage designs embellished with beads, crystals and agates.
In addition to the Runway Show, you can shop the fine clothing, jewelry and accessory Boutiques from near and far that include:
Artemis: Edgy, Earthy, Elegant, Jewelz & Art
A Single Strand: Sterling Silver and Costume Jewelry
Elen Sotzing Jewelry: Representing Makers of Hand Crafted Art Jewelry
FauxReal Designs: Unique Designs at Faux Real Prices
Felt Sutra: Wearable Art
Patricia Presents: elegant and charming Jewelry with contemporary flair
Spruce Home and Garden showcasing Jewelry Designer Denise Cox
Stella & Dot/J.Hilburn: Jewelry and Menswear
Two B's: Accessories from around the world
The evening will include fine wines and lots of good munchies by some of our favorite establishments that include: Aux Delice, Collyer Caterers, Katies Kitchen, The Pantry, Stiles, Spa & Sprinkles, Westport Chinese Take Out, Anna's Cakery, Pinkberry Frozen Yogurt, The Fresh Market. There will be Door Prizes and Raffles.
The event will benefit the Westport Woman's Club Scholarship Program, Community Services Grants and Food Closet as well as the Westport Historical Society's Programs.
The Westport Woman's Club is a 501(3c) non-profit philanthropic organization.
Westport Women Rock & Shop:
Friday October 18, 2013. 7:00-9:00pm
Westport Woman's Club
44 Imperial Avenue
Westport, CT 06880
203-227-4240/9:00-4:00
Tickets: $20.00