On the evening of April 30 and the afternoon of May 1 only, the Westport Woman's Club's Art Show fundraiser, curated by Miggs Burroughs, returns to Bedford Hall. Art Show chair Jo Luscombe notes that this year's show builds on last year's success and continues the long WWC tradition of partnering with local artists to generate sales for them and funds for local scholarships. Because this year's show again features multiple works by 15 artists, across an array of media, and at attractive price points, there's something for everyone. Some of the media will include: watercolor, oil, lenticular images, abstracts, pen and ink, photography, mixed media and ceramics.
Our Art Show Event Description on "FCBuzz.org"
(Cultural Alliance of Fairfield County website): Click Here
Dan Woog's "06880 blog profile" on WWC Art Show: Click Here
Featured artists include Michael Brennecke, Miggs Burroughs, Eric Chiang, Elaine Clayton, Karen Ford, MaryEllen Hendricks, Dan Long, Sooo-z Mastropietro, Edhu Nascimento, Diane Pollack, Lynn Popat, Lisa Silberman, Jo Titsworth, Lee Walther and Cris Xavier.
This year's Art Show will be dedicated to the memory of legendary local artist, Howard Munce, whose wife, Gerry was a longtime WWC member and avid community volunteer. Howard's use of art to support the WWC took many forms. He exhibited in the annual Art Show, designed posters for events and for the organization's 100th anniversary in 2007, even created a new logo, still in use today.
Partnering with local talent began early in the 20th century, not long after the Club (est. 1907 as the Woman's Town Improvement Association) began, and just as many of America's best representational artists, Westport's "Famous Artists" of the 20th century, were moving into Town. In that era, many Woman's Club members either were wives of artists or artists themselves. During the Great Depression, WWC art shows helped unemployed artists and their families make ends meet. In good times and bad, civic-minded local artists pitched in to support the Club's fundraisers.
Styles have changed, but community spirit endures. Admission to the WWC Art Show at 44 Imperial Ave. is free and open to the public. 30% of sales will benefit need-based scholarships for Staples seniors.
The WWC Art Show's hours are very limited: Saturday, April 30, 5 to 8 pm (Opening Reception) and Sunday, May 1, 2016, 12 to 4 pm, at Bedford Hall, 44 Imperial Avenue, Westport. Cash, checks and credit cards are accepted for purchases or donations.
Major Benefactor support for the Art Show has been provided by Lead Sponsor, William R. Harris, Jr., Gault, Darien Rowayton Bank and Jeanette Tewey.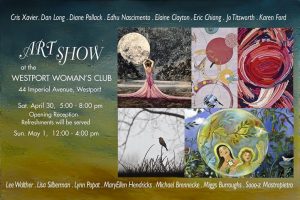 (Graphic Design - Paul Cohen)