Bedford Hall was fittingly decorated in a red/white/blue patriotic theme for the club's June luncheon, as the membership prepares for their largest WWC fundraiser of the year ~ the YANKEE DOODLE FAIR (June 13 – 16).
Following lunch, our featured speaker was our own WWC Board member, Donna Pellittieri, who was trained as a Fashion Designer at New York's Fashion Institute of Technology. Donna initially worked in the fashion industry, but decided to return to school to become an O.R. nurse to support her "art habit". Donna described seeing an ad in the back of a woman's magazine, ordering a kit, making dolls with her artistic flair, entering her creations in competitions, and ultimately finding her passion in "Art Dolls". Donna has now been making dolls for over 30 years.
Donna is a member of NIADA (National Institute of American Doll Artists), where she served as President from 2009-2013. NIADA members travel the world to present and teach their art. Donna's dolls, which she creates under her maiden name, Donna May Robinson, are made of cloth with oil painted faces and have been featured in numerous doll magazines and books. As part of today's talk, Donna presented a stunning slide show of dolls that were created by fellow NIADA artists from 5 continents. Their one-of-a-kind dolls were made in a variety of mediums (clay, paper mache, carved wood, porcelain, 3d printer), with sizes ranging from 2 inches to 3 feet. A few of the "Art Dolls" in Donna's presentation follow this post.
In addition to her artistry as a doll-maker, Donna also designs "sweetly unique, one-of-a-kind fashions for little ones", with commissions welcomed for special occasions. www.donnapellittieri.com
Additional Club Day business included: recognition of member Lorraine Feliciano for her decade-plus years of service as WWC webmaster, positive results on the recent Antique Appraisal Day fundraiser, updates on the upcoming Yankee Doodle Fair, and the installation of incoming WWC Board Members for the 2019-2020 club year.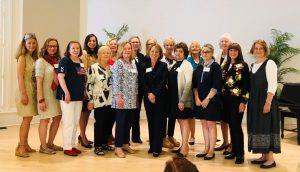 Westport Woman's Club – Installation of 2019-2020 Board Members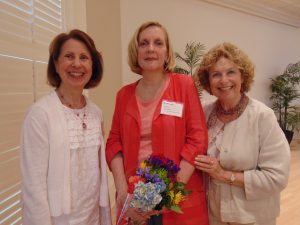 Our Member/Artist/Speaker Donna Pellittieri,
with 2018-2019 program chairs, Jo Calcagni and Leah Scherzer
June Club Day ~ Slide Show