The Guest Speaker at the September Club Day was CT State Senator, Will Haskell. This non-partisan talk featured Senator Haskell's life, growing up in Westport, and how he came to be the youngest Connecticut State Senator in the history of the CT General Assembly. Senator Haskell represents the 26th District, which includes the towns of Bethel, New Canaan, Redding, Ridgefield, Weston, Westport and Wilton.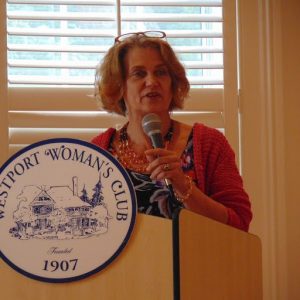 WWC Parliamentary Advisor Sharon Jones introducing
CT State Senator Will Haskell, her stepson, at September Club Day.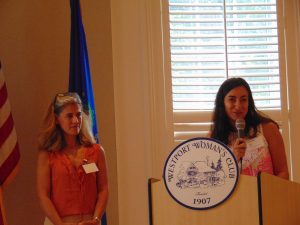 (L-R) WWC President, Christina McVaney and WWC Second Vice President of Finance, Maria Fraile report the well-received news that because the members worked hard this year fundraising, the club will have ADDITIONAL funds to enhance 2019-2020 WWC Community Service within Fairfield County.