2016 YANKEE DOODLE FAIR
JUNE 16TH – JUNE 19th
Sponsored by the WESTPORT WOMAN'S CLUB
44 IMPERIAL AVENUE, WESTPORT, CT
203-227-4240
Click here for YDF Press Release
(Click here for further details)
Yankee Doodle Fair 2016: 2 MORE good reasons to come!
Yes, the Stewart Amusements carnival rides will be back, for kids of all ages. The International Food Court (this year with Los Molcajetes, Mumbai Times and Jr Deli & Grille) will be back, too. So will Lucky Prize Drawing, Sand Art, Face Painting, Curio Cottage shopping, Raffle (2 round-trip tickets to anywhere Jet Blue flies, even Seattle! Or, 8 Flex Tickets to Westport Country Playhouse! Or a gift certificate redeemable at Silver Ribbon!). The New Canaan Psychic will be making her debut.
But here are two VERY special WESTPORT reasons to come to YDF 2016.
First, what would Yankee Doodle Fair be without Yankee Doodle in the house? This year, come see George Washington, aka Yankee Doodle, in full authentic costume. He bears a strong resemblance to the designer of Westport's "Minute Man" Town Flag, Miggs Burroughs. For a $3 donation, YOU may have your very own keepsake selfie photograph with him to share on FaceBook, Snapchat, Twitter or Instagram. NOTE: The costume is hot, so Miggs will be in air-conditioned Bedford Hall for limited hours, 6 to 8 on Thursday and Friday, 4 to 7 on Saturday and 1 to 3 on Sunday, Father's Day.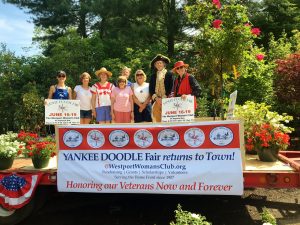 George Washington (aka Yankee Doodle) is known to have visited what now is Westport four times. He's BAAACK for selfies with you, at YDF, all to benefit local charities.
Second, while you're in Bedford Hall...
Since the first Fair in 1907, every Westport Woman's Club Fair has had a Bake Sale...
One WWC member who bakes, a longtime Gourmet Group member (and Betty White lookalike), is Westporter Bev McArthur. She LOVES to make treats for family and friends, and also faithfully baked cookies for her twice per week volunteer stint at Stamford Hospital. (She gave that up last year. The rush hour commute to and from Stamford on I-95 was becoming too much of a chore.)
At Yankee Doodle Fair's Sale a few years back, one buyer asked Bev whether the recipe to a particularly delicious treat was available. The ingredients were on the label, but not the recipe. That gave Bev an idea.
After the Fair, she shared the story with the YDF Committee and offered to collect and compile the WWC's favorite Bake Sale recipes into a special YDF cookbook. She did ALL of the legwork, phoning bakers, choosing the star-spangled cover design and the cookbook name, Sweets and Treats, then helping a team punch holes in the pages, collate, assemble and publish the work. The finished limited edition spiral-bound cookbook (lays flat while open), available for $10, even has charming illustrations drawn by WWC members.
This year, once again, Bev--who just turned 90--will be baking and doing her shift at the YDF Bake Sale in Bedford Hall. Why not stop by and ask for her, or see if any of her macaroons are still available? She may be chatting with other visitors, including her own children, her two grandchildren or one of her five great grand-children. But--even if you miss her, or her famous macaroons are gone already, you still can enjoy her recipes for years to come if you buy the YDF cookbook!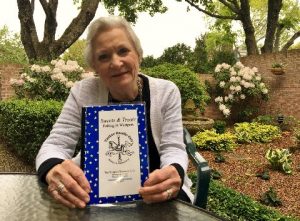 Bev McArthur, at home in her garden with
her favorite cookbook.
Yankee Doodle Fair is open at 44 Imperial Avenue on June 16 (6-10pm), June 17 (6-10pm) June 18 (1-10pm) and Father's Day, June 19 (1-5 pm). Admission is free, unlimited rides wristbands are available and YDF memories last a lifetime. Most importantly, as always, the WWC returns all net proceeds of Yankee Doodle Fair to greater Westport through grants and scholarships.
www.westportwomansclub.org