Members arriving for December Club Day were treated to a festive clubhouse, decorated for the holiday season, thanks to many dedicated members of the WWC Garden Department (chaired by Garden Chair Vivian Rosenberg). From the handmade wreath gracing the WWC foyer door, decorated trees from the Dining Room to the Bedford Hall Stage, handmade centerpieces of seasonal greenery from our clubhouse gardens, to a boutique for member holiday shopping, Garden Department members provided all attending with a beautiful holiday setting. (more…)
Arantxa Mateo, a weight management mentor, was the guest speaker at November Club Day. Ms. Arantxa's personal struggles with weight in her teen years, propelled her to study biology and nutrition as an educational path. Arantxa has developed the 32 Mondays Weight Management Program (32mondays.com), which is not a diet but rather an educational program to teach people how to manage their weight for the rest of their lives. Her club day program featured 25 Tips, Recommendations and Best-Kept-Secrets to avoid gaining weight over the Holiday Season, as well as her three "S" for weight management success.
October Club Day's program featured Deby Goldenberg, a certified yoga therapist and a Tai Chi/Qi Gong instructor, who has also achieved a 3rd degree black belt. Deby began her post-luncheon program by demonstrating the saber form, followed by introducing WWC members to Qi Gong in a guided meditation, including both standing and seated positions within Bedford Hall. Qi ("subtle breath" or "vital energy") and Gong ("skill cultivated through steady practice") is a mind-body-spirit practice that improves one's mental and physical health by integrating posture, movement, breathing technique, self-massage, sound, and focused intent. (more…)
The Guest Speaker at the September Club Day was CT State Senator, Will Haskell. This non-partisan talk featured Senator Haskell's life, growing up in Westport, and how he came to be the youngest Connecticut State Senator in the history of the CT General Assembly. Senator Haskell represents the 26th District, which includes the towns of Bethel, New Canaan, Redding, Ridgefield, Weston, Westport and Wilton. (more…)
Bedford Hall was fittingly decorated in a red/white/blue patriotic theme for the club's June luncheon, as the membership prepares for their largest WWC fundraiser of the year ~ the YANKEE DOODLE FAIR (June 13 – 16).
Following lunch, our featured speaker was our own WWC Board member, Donna Pellittieri, who was trained as a Fashion Designer at New York's Fashion Institute of Technology. Donna initially worked in the fashion industry, but decided to return to school to become an O.R. nurse to support her "art habit". Donna described seeing an ad in the back of a woman's magazine, ordering a kit, making dolls with her artistic flair, entering her creations in competitions, and ultimately finding her passion in "Art Dolls". Donna has now been making dolls for over 30 years. (more…)
Members enjoyed a delicious spring menu, catered by Aux Delices, at their May monthly gathering. Kathleen Malloy, Team Leader of Patron Experience at The Westport Library, was the featured speaker and updated members and their guests on the library's transformation status. (more…)
David Pogue, our guest speaker at the WW April Club Day was attended by approximately 90 members with much excitement. David is a Westport resident who is an American technology writer and TV science presenter. Many of us recognize him from the CBS News Sunday morning and his technology column that appears in the New York Times. David has written many books, his most recent, Pogue's Basic series is what captured his audience's attention. He described his Pogue's Basic: Technology, Pogue's Basic: Life and Pogue's Basic: Money in an entertaining and very informative way. (more…)
The Westport Woman's Club welcomed Matt Storch, celebrity chef and restaurant owner of Match Burger Lobster in Westport, Match in Norwalk and Nom-eez in Bridgeport, as their speaker for February Club Day. Matt grew up in Westport, but his travels around the world as a child, as well as his close relationship with his grandmother, inspired him to follow food as a passion and become a chef. (more…)
The Staples High School Orphenians Choral group directed by Luke Rosenberg performed holiday songs to the delight of the Westport Woman's Club Members. (more…)
The Westport Woman's Club had as its guest speaker Diane Lowman,
writer and author of her novel memoir-"Nothing But Blue". Diane spoke
to an audience of ninetyfive Club Members who were in awe upon
hearing her story of a nineteen-year-old Middlebury College sophomore
embarking on a 10-week working trip aboard a German container ship
with a mostly male crew. The journey would take her from New York
through the Panama Canal to Australia, New Zealand and back. (more…)
Flamenco, a derivative of the spanish word for "fire" or "flame", was the program focus for October's luncheon. Thanks to a past WWC Member, Penny Pearlman, members embarked on a historical journey from 1774 when flamenco was "voiced", to the Golden Age of Flamenco (1850-1910) when spanish cafes and restaurants pulsated with Moorish influences and staccato sounds of dance. (more…)
Club member, Arlene Johnson, provided a cool escape from the summer heat with a scenic overview of her recent Antarctica Expedition, a Brown University trip. Arlene's travel photos of Argentina, Antarctica and Chile, as well as sightings of chin-strap penguins, orcas and seals were some of the shared highlights. Arlene's granddaughter's "Flat Evelyn" even made the excursion to this southernmost destination.
Arlene brings a special appreciation for life in the Antarctica. She taught Advanced Placement Biology for nine years at Staples High School from where she retired in 2008. She is presently an adjunct Professor of Biology at Sacred Heart University.
Bill Harmer, Executive Director of the Westport Library was the guest speaker at the WWC Club Day Luncheon.
He described the project that will transform the fixed and static thirty-year old Library into a community oriented facility which will serve the cultural, educational and information technological needs of the Westport community in the 21st Century. Mr. Harmer calls the Library project "creative, opportunistic, energetic and transformative."
Installation of incoming Board Members, 2018 -2019 took place.
The guest speaker for the WWC May Club Day Luncheon was Susan Granger, renowned film critic and journalist. The subject of her presentation was "Hollywood: Past, Present and Future."
Jennifer Tombaugh, President of Tauck Tours was the WWC April Club Day Guest Speaker. Jennifer is a graduate of Harvard University and Harvard Business School, and her collaborative leadership style has led her to become the first person outside of the Tauck family to be named President of the company, which traces its roots back to 1924, and with a fourth generation now involved.
Staples High School Jazz Band, under the direction of Nicholas Mariconda, performed to a standing ovation at the Westport Woman's Club March Luncheon today. The Band is a performing ensemble of musicians chosen by audition from the school's core groups: band, orchestra and choir.
The Jazz Band consists of the traditional big band instrumentation of saxophones, trumpets, trombones and rhythm section. They perform at school events and competitions throughout the school year.
The WWC February Club Day program was presented by Eliot D. Russman, President & CEO of the
Fidelco Guide Dog Foundation
and G. Kenneth Bernhard, local attorney and Vice President of the Fidelco Board of Directors, and Don Overton, who lost his sight during Desert Storm/Gulf War - accompanied by his guide dog.
Don Overton, Client of Fidelco bio.
Photo of Dr. Joe Utterback with Ana Hitri, Programs Director.
A celebrated American jazz pianist, composer and recording artist, "Dr. Joe" performed at The Westport Woman's Club for their December Luncheon.
The program for November Club Day focused on the new exhibit at the Westport Historical Society that envisions the Town of Westport 50 years from now. Michael Mombello, one of the organizers of the exhibit, presented the overall view of the architectural evolution of our town in 50 years. (more…)
Jane Green, NY Times bestselling author and Westport resident, spoke to Members and guests at the Westport Woman's Club on Monday, October 2nd. (more…)
May Club Day consisted of a traditional May Tea. Members donned their favorite festive hats to welcome Spring at the WWC. Attendees enjoyed an assortment of delicious Tea Sandwiches: watercress cucumber, deviled egg, curried chicken, French ham and butter, tuna and vegetables on assorted breads, and mini desserts. Beautiful flowers adorned the Buffet Table. In addition, Art from the WWC Art Show, was on display. (more…)
Guest Speaker for April Club Day was Lucia Gulbransen, an Image Consultant credentialed by the Fashion Institute of Technology in New York City. Lucia presented a workshop entitled "Style Confidence at Any Age." (more…)
Sophie Helenek was the speaker at the WWC March Club Day Luncheon. Sophie intertwined her mountaineering experience of climbing and reaching the top of Mt. Everest, with her financial-analyst skills in a fascinating presentation at the Westport Women's Club. Her enthralling story captivated the audience. (more…)
Our February Club Day Luncheon with Philip Anthony DiConstanzo and Anya Liftig, presenting "The Art of Living the Role", on the teachings of Acting Coach and Director Albert Pia.
Everyone was excited in anticipation awaiting the arrival of Marc Chagall's Granddaughter, Bella Meyer. She is carrying on her life in the art field with a store in Manhattan called, "Fleurs Bella….beautifiers". Her shop make very large arrangements using flowers and all sorts of materials to make very big and beautiful dramatic arrangements for places like the Metropolitan Opera and other openings and celebrations. (more…)
May Club Day Tea Luncheon Hat winners (Bernadette Stiskal, Bobbie Herman and Mary Attanasio) and judge, Miggs Burroughs: (more…)
Popular Westport writer Dan Woog discusses his "06880" blog at February Club Day. An average of 10,000 readers per day, who live locally and in nearly 40 states and foreign countries, read his blog.
Today, Dec. 7th, at the Westport Woman's Club monthly luncheon meeting, a full house heard singer Casey Clark--daughter of Westport National Bank manager and WWC Treasurer, Robin Clark--perform Broadway and seasonal favorites. Pianist Jim Jacoby accompanied.
Family and friends enjoying the concert and festive decor included Rosemary Clooney's son, Westporter Rafael Ferrer and his wife, Ligia Brickus. (See below for Slide Show)
It was a full house today at the Westport Woman's Club "Club Day Luncheon" featuring the awarding winning fine art and editorial photographer Westporter Stacy Bass who started her presentation with a slide show of some of her truly beautiful photos from her current book, "Gardens at First Light." She is known for capturing the essence of a place through an intuitive use of light, color and composition.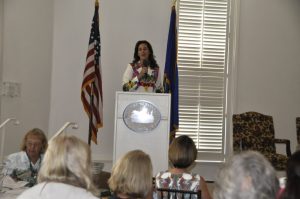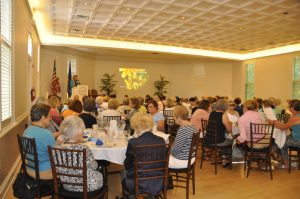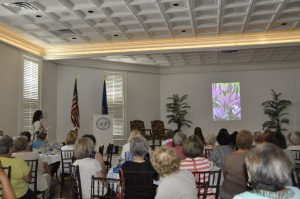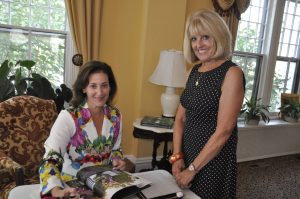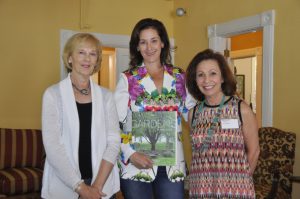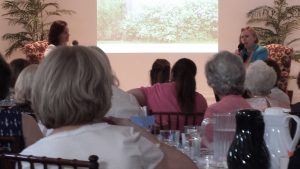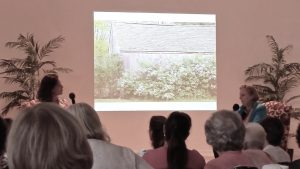 November's WWC Guest Speaker, PAM ARCIERO spoke about various types of puppets and introduced club members to some of her puppet friends. Ms. Arciero performs for film, television and theater, notably as a principal puppeteer with Sesame Street and Between the Lions, performing numerous characters, most notably Grundgetta Grouch and Leona Lion. Pam has taught puppetry all over the world from New York to Hong Kong, Saudi Arabia to Denmark, and her love and joy of puppetry is contagious.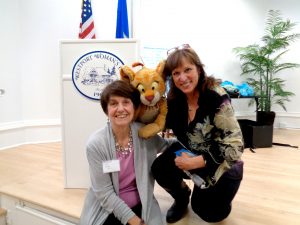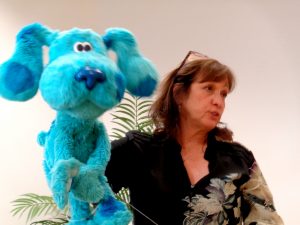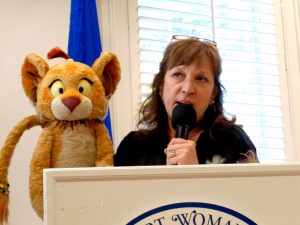 WWC's October Club Day Luncheon's Guest Speaker, Paul Piorek, Award Winning TV Meteorologist, presented an interesting and educational program for our club members. Paul began his career at News 12 Connecticut in September of 1989 as the evening weather anchor while also teaching Science and Language Arts. Paul is a ten-year veteran of education and was named Connecticut's Outstanding Elementary Social Studies Teacher in 1993 by the State Chapter of the Daughters of the American Revolution. Paul began his weather career in 1986 as assistant at the Western Connecticut State University weather center in Danbury. He provided on-air weather forecasts for a number of local and national commercial radio stations. That led to his position at News 12 Connecticut three years later. Paul is a four-time winner of the Connecticut Associated Press Broadcasters' Association award for Best Weathercast (2006, 2008, 2009, 2012), New York Emmy award winner (2007), and five-time Emmy nominee. He is also a two-time winner of the Communicator award (2012 & 2013). Paul received the Housatonic Community College Distinguished Alumni award and was inducted into the HCC Hall of Fame (2012).
The Westport Woman's Club Members enjoyed their first annual luncheon meeting on Monday, Sept. 8, 2014. The speaker for the luncheon was Karen Bussolini, a widely and eco-friendly garden coach from Kent, Ct. who trained as a painter and had a career as an architectural photographer before turning her attention entirely to gardens. She is well published and has appeared on PBS television and taught at The New York Botanical Garden. The topic of her talk was, "Naturescape Your Yard" which was very informative from the perspective of those who are gardeners, those who have gardens and those of us who simply enjoy and admire them.
Pictured below are:
Members enjoying their lunch and anticipating the presentation. Rose Jordan introducing Karen to the members. Karen presenting a slide show of her beautifully photographed gardens.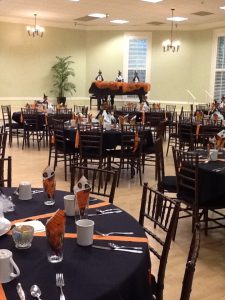 Margaret Le Bedis Guest Speaker at the Westport Woman's Club Luncheon
Margaret Le Bedis is a Moderator and Historian who has been associated with the Westport Historical Society since 1978, as a tour guide for the Jennings Trail, a historical tour around town for school children. She is a lecturer with the continuing education department of Staples High School, has been a board member of the Westport Historical Society and she is presently in charge of Adams Academy, the one room school house which is a town museum located on Morningside Avenue North.
Ms. LeBedis spoke of the history of witches and what their role was in England during the 17th century and how the out growth of witches began in Salem, Mass.
She was quite humorous as she entertained a full house of Westport Woman's Club members at their monthly luncheon.
Ms. LeBedis also presented interesting stories of local legends and witches from Westport past.
She continues to lecture on the existence of witches, ghosts, goblins and gremlins.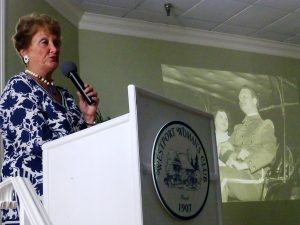 Susan Granger entertained a full house at the Westport Woman's Club September Club Luncheon with stories about her being born and raised in Hollywood.
Her father headed production at Columbia Pictures; her stepfather was a producer at M.G.M. As a child Susan appeared in "Salute to the Marines," "Abbott and Costello in Hollywood," "The Fuller Brush Man" and others.  She spoke about one of her closest friends Jane Powell who she worked with in "Son of Lassie".
Ms Granger captivated her audience when she spoke about the mythology and magic of Hollywood: what it was, what it is and what lies ahead. She described how the effect of some of our TV and movie programs, in our American Culture, is changing the thinking of the world. She pointed out that today the taste of the Far East determines the type of movies made, for example, there is a demand for 3D, IMAX, action films, science fiction and animation.
Although acting was part of her youth, her love for writing was a dream she pursued. She studied journalism under the tutelage of Pierre Salinger at the University of Pennsylvania where she got her degree.
As an adult, she worked on radio, TV and newspaper: check out the Granger Movie Gauge on her website, hhttp//www.susangranger.com.
Jane Powell Charms Her Audience at the Westport Woman's Club
 Jane Powell, the star of TV, Movies and Stage joined the Westport Woman's Club for their June Club Day Luncheon. A song-and-dance star from a very young age, Ms. Powell still sports her well-loved light-up-a-room-smile and perky demeanor. She shared some candid thoughts about her career and life.
Ms. Powell shared the story of a little girl named Suzanne Lorraine Burce who started taking dance and singing lessons at the age of 2 in her hometown of Portland, Oregon.  By age 11 she had her own radio show and following the outbreak of World War II she was named the Oregon Victory Girl and entertained at veterans' hospitals and help sell war bonds.  At the age of 14 her parents took the rising star to Hollywood where she was immediately signed by L.B. Mayer at MGM and given the name Jane Powell. Through her career she has played in major movies such as Seven Brides for Seven Brothers and The Royal Wedding and toured in major Broadway shows South Pacific, The Sound of Music, Oklahoma, My Fair Lady and Carousel.
Growing up in Hollywood was exciting, hard work and often lonely.  Ms. Powell wanted to have a typical high school experience, going to football games, parties, sleepovers, but instead attended the Little Red Schoolhouse at MGM.  The only one in her grade, Ms. Powell had three hours of class by herself a day, then went to work rehearsing and filming until 5:30.  Other young stars were in similar circumstances.  Among them, Roddy McDowall who became as close as a brother and with whom she shared many family dinners at his parents' house, and a three-year younger upcoming star named Elizabeth Taylor.   The two were bridesmaids at each others first weddings.  She had the pleasure of working with movie greats like Fred Astaire ("a lovely gentleman who was very, very secretive").
As the golden age of the Hollywood musical was coming to an end, Ms. Powell found herself going from a star with a contract to being without work. "The hardest thing is to not be wanted," she shared.  She then went on the road performing live theater
and appearing regularly on TV variety shows.  Ms. Powell now lives in New York and Wilton, CT with her husband of 25 years, Richard "Dickie " Moore, childhood star of many films and the "Our Gang" series.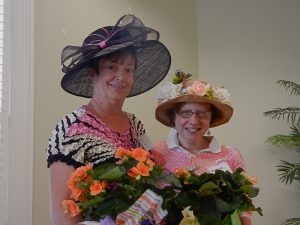 Hats Off to the Winners
The Best Garden Hat award at the May Club Day Luncheon was a tie between Wendy McKeon for Most Glamorous and Amy Schneider for Most Creative.  Congratulations, ladies!
Beardsley Zoo Animal Ambassadors Visit the WWC
Jim Knox, Curator of Education for the Beardsley Zoo and Jessica Summers, Director of Development and Marketing for the Beardsley Zoo, along with three seasoned animal ambassadors, joined the Westport Woman's Club for their April Club Day Luncheon.
Each of the Animal Ambassadors tells a story about the Zoo's mission.  The Club Members happily met Wiggles, a 12-year old rescue Chinchilla who was brought to the Zoo when his former owners could no longer care for him.   Lilith, a 12-year old Eastern Screech Owl who came to the Zoo when motorist spotted her on the side of the road after being hit by a car.  She has been rehabilitated, but a damaged wing keeps her from being able to be reintroduced to the wild.  And Darth Gator, a 3 year old American Alligator who is the poster-gator for the conservation success story that surrounds the return of the species from the brink of extinction.
The Beardsley Zoo is an accredited zoo and a private non-profit. The staff acts as caretakers for 130 species primarily from North, Central and South America.  They are held to high standards to make sure the animals are well cared for, receive proper medical attention and even get the kind of enrichment programs that exercise their brains as well at their bodies.  The Zoo participates in programs designed to help save endangered animals, like the Andean Condor currently being re-released into the wild, and Guinea Hog originally brought to the US by people including Thomas Jefferson because they were smaller and could be raised in developing towns and cities.  They develop and implement programs that educate children and the community overall.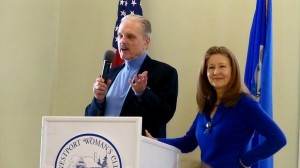 Keir Dullea and Mia Dillon Address at the Westport Woman's Club
 Keir Dullea and Mia Dillon entertained a full house at the Westport Woman's Club March Club Day Luncheon with stories of their acting careers and their shared life.
Mr. Dullea engaged everyone with an anecdote about a visit to a fortuneteller who asked if he was a scientist or engineer.  When he said neither, the fortuneteller said that for whatever reason, he was seeing spaceships in his reading for him.  Days later, Mr. Dullea received a call offering him the part of David Bowman in the movie 2001: A Space Odyssey. He recalled the thrill of being selected for the part and of working with the acclaimed director Stanley Kubrick.  Despite the recognition that came with that iconic film, his favorite movie part was playing David in David and Lisa, directed by Westport native Frank Perry, which is the movie he credits with putting him "on the map."
"Being an actor prepares you to be versatile and handle unemployment," quipped Ms. Dillon.  Bitten by the acting bug the first time she got a laugh out of the audience while in a school play, she credits her tenacity with driving her success. She was cast in her first off-Broadway play when she braved a blizzard to get her photo to a casting director.
The couple worked together and established a professional friendship.  They lost touch and reconnected years later and married in 1999.  Immediately after marrying, they co-starred in a production of Deathtrap where his character killed her character night after night.   They both joke about the fact that it wasn't much of a honeymoon.
Mr. Dullea and Ms. Dillon continue to be active in their professional careers, largely focused on live productions.  Ms. Dillon is involved in the Actors Center in New York City and has established a successful second career doing acupuncture.  Mr. Dullea co-founded the Theater Artists Workshop of Westport (now located in Norwalk).  Both actors are currently involved with the organization which is celebrating it's 30th year.
The Westport Woman's Club, organized in 1907, is a non-profit philanthropic organization dedicated to volunteerism and the raising of funds in support of the educational, charitable, cultural and public health services in Westport and surrounding towns.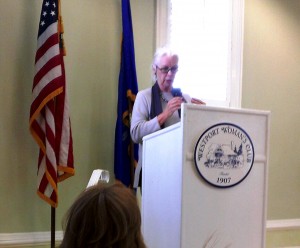 Our November speaker was Anne Keefe, currently artistic advisor at the Westport Country Playhouse,.  Ms. Keefe spoke about "How to Cast a Show." She served as artistic director at the Playhouse, with Joanne Woodward from 2000- 2006 and has directed numerous productions.   If you've ever attended any of the Script in Hand readings at the Playhouse you will have seen Anne at work.  Ms. Keefe's talk covered the various methods for casting a show and also how electronic media has changed some of the ways people audition.  She spoke about her many interesting experiences over the years.
Lisa Wexler Addresses the Westport Woman's Club About Downsizing of the Navy
Lisa Wexler, the Gracies-Award winning creator of The Lisa Wexler Show, the most popular talk radio show in Westchester County, spoke to the Westport Woman's Club at the October 1 Club Day Luncheon. (more…)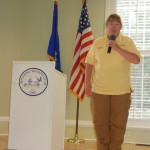 Leslie Huston, Eastern Apicultural Society Master Beekeeper and past President of Connecticut's Back Yard Beekeepers Association helped the WWC kick-off their 2012-2013 year sharing her expertise and insights on the bee-havior of the honeybee.
Mankind has had a sweet tooth for millennium, and beekeeping for honey has been traced back to 2400 BC Egypt and earlier.  Early settlers introduced honeybees in the U.S. from Europe in 1621 so they would have a local source for the sweetener, as well as the beeswax used for candles and furniture polish.  The bees colonized their way across the country and now play a critical role in our agriculture as pollinators helping to increase the yield of fruits and vegetables.
Three castes of bees make up the hive, and each group functions as part of a highly organized society.  Each the Queen Bee, the Worker Bee and the Drone Bee have distinct roles within the hive, building, protecting and nourishing their colony.  The European honeybees are docile, gentle and interesting creatures that are threatened by disease, mites, chemicals and the negative association with African "killer bees."
Ms. Huston encourages everyone to enjoy honeybee products that are locally sourced and find out more about beekeeping as a hobby.  Learn more at www.backyardbeekeepers.com and www.bee-commerce.com.
Adam Freedman, Leading Commentator on Law,
Addresses The Westport Woman's Club
 The Westport Woman's Club was entertained at their June Club Day Luncheon by Adam Freedman, lawyer, legal commentator and author.  Mr. Freedman's first book, "The Party of the First Part: The Curi­ous World of Legalese", is a witty and humorous look at language in the law.  He spoke today about the challenges of understanding the original meaning of the Constitution, which is the topic of his second book scheduled for publication in October: "The Naked Constitution: What the Founders Said and Why it Still Matters."
Mr. Freedman views the Constitution as a blueprint for our system of government that sets the outer boundaries of political debate and helps define us as a country.  His humorous look at some of the legal challenges about the meaning of the Constitution throughout the country's history kept the audience entertained, including real-life cases about such things as the unconstitutionality of summer homework (yes, it is constitutional) and the impact that semi-colons and commas can have on the interpretation of the law.   The importance of interpretation continues today as current issues like healthcare reform, medical use of marijuana and same sex marriage are brought to the legal stage.
Mr. Freed­man holds degrees form Yale, Oxford and the University of Chicago, and is a frequent guest on numerous radio shows. His essays have been featured in many publications including The Wall Street Journal, The New York Times, the National Review, Slate and Newsweek International.
Luncheon Slideshow
The WWC May Club Day Luncheon consisted of a lovely afternoon Tea.  This day included the club's Annual Plant Sale (See Events w/slide show) and Award presentations (See Community Service).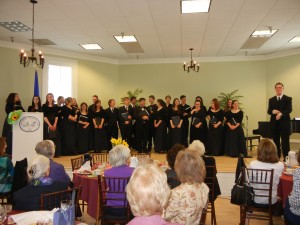 Staples High School Orphenians Perform at WWC April Luncheon
The Staples High School Orphenians helped the members of the Westport Woman's Club celebrate spring with their performance at the WWC luncheon on April 2.
Choral Director Justin Miller led this elite group of upper classmen in a lovely series of a capella melodies that allowed their vocal talent to shine.   They sang a variety of songs including "A Parting Blessing," based on an Irish proverb, and "Ride the Chariot," a wonderful spiritual that has been performed by the Orphenians through the fifty-year history of the group.  A special cameo performance of "Agony", a number from the Staples Players show "Into the Woods" was sung by Charlie Greenwald and Tyler Jent accompanied by Danny Pravder on piano.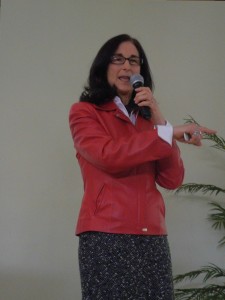 Alison Wachstein, a Weston based photographer, shared techniques for making and taking pictures with members of the Westport Woman's Club at their monthly luncheon.
 The magic of photography is that it that it allows you to capture the personalities of the most special people in your life, says Ms. Wachstein.  She talked about three elements of great photography – psychology, craft and artistry.   To help really capture a memory, Ms. Wachstein recommends photographing people in a favorite outfit or with an item that means a lot to them, for example a musical instrument or first car.  A great trick for getting a large group to look at the camera and smile at the same time – stick a quarter to your forehead and tell them that on the count of three it will fall off.  While the quarter doesn't always fall off on schedule, the group can't help but watch for it.
 Ms. Wachstein is the reci­pient of many state, regional and na­tional awards, including the Kodak Gallery Award and the EPCOT Award for photography. Ms Wachstein has displayed and published her photo­graphs internationally and has taught photography at Seton Hall, Fairleigh Dickenson and Fairfield University.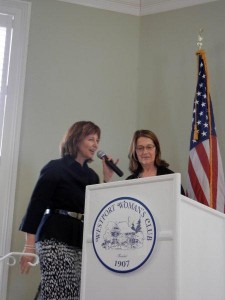 Lisa Wexler, award winning creator of The Lisa Wexler Show, the most popular talk radio show in Fairfield County, CT, spoke to the Westport Woman's Club at the February 6 Club Day Luncheon.
Ms. Wexler, a talk radio host, attorney, advocate, author and public speaker, she is a master at communicating information in an entertaining way.
One of her passions is to bring greater visibility to a news topic she believes is underreported.  The privacy policy that Google plans to put in place on March 1 is one such topic.  Per Ms. Wexler, while an individual's privacy is legally protected with regard to things like personal "snail" mail and history of what books you check out of the library, privacy of email and search history (among other things) through Google, will no longer be protected.  She encouraged her audience to become familiar with the new Google policy and how it will affect them.
The Connecticut Press Association gave The Lisa Wexler Show top prize as Best Radio Show in Connecticut in 2011.  You can hear the show every Monday – Friday, 4-6 PM at AM 1230 WFAS as well as via internet streaming on lisawexler.com.
Westporter Megan Watt Celebrates the holidays at the westport woman's club december luncheon
Megan Watt, a Staples High School graduate and past Staples Players performer, helped the members of the Westport Woman's Club get into the holiday spirit at their December Luncheon.  Megan, accompanied by Don Rickenback on piano, sang many holiday favorites, including "Have Yourself a Merry Little Christmas" and a delightfully feisty version of "Santa Baby." She used her infectious energy to get WWC club members to join in singing "White Christmas" and "The Twelve Days of Christmas."   A special moment was shared when Megan dedicated and sang "Somewhere Over the Rainbow" to club member and mother, Marjorie Watt.
(more…)
Sara Hacala Featured Speaker at The Westport Woman's Club 
Author Sara Hacala, a certified business etiquette and protocol trainer, is committed to the belief that civility is an essential component of our culture.  Surveys show that in today's fast-paced, technology-driven society, we are getting ruder and less respectful of others.  By a show of hands, WWC members attending the November luncheon, agreed with this assessment.  Many people view incivility as the "new normal."   But Ms. Hacala believes that each of us can help create the change needed to reverse this trend.
Growing up south of the Mason-Dixon line where manners were an integral part of life, Ms. Hacala learned from an early age to appreciate the fine points of appropriate behavior.  She discovered her real passion when she realized how social skills could change and elevate people's lives, allowing them to communicate respectfully and effectively. "Science shows that kindness and generosity have a positive ripple effect," said Ms. Hacala.  Every interaction we have can make someone feel better or worse about him or herself whether in social settings, the workplace, school or home.  In her new book, Saving Civility: 52 ways to Tame Rude, Crude & Attitude for a Polite Planet, she lays out positive behaviors within our control that can help make a difference.
Ms. Hacala, a frequent speaker on the topic of civility, is president of Sara Hacala & Associates LLC, which provides full-service training and seminars in all aspects of business etiquette, manners and civility for corporate personnel, university students and individuals.  She also works in high schools with "at-risk" students, teaching vital interpersonal skills to help them access the business arena and increase their opportunities for success.  A world traveler and consummate hostess, she is a graduate of the Protocol School of Washington.
The Westport Woman's Club, organized in 1907, is a non-profit philanthropic organization dedicated to volunteerism and the raising of funds in support of the educational, charitable, cultural and public health services in Westport and surrounding towns.  To learn more, visit
www.westportwomansclub.org
.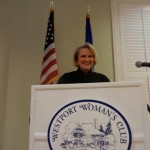 Bobbie Herman, a Westport Woman's Club Board Member, shared a talk and slide presentation on her recent trip to Vietnam and Cambodia with club members attending the October luncheon.  Through photos and words, Ms. Herman chronicled her travels through these beautiful countries where historical buildings and monuments are testament to their long history, and interactions with the people shed light on the daily life and diverse cultures that thrive within them.  While ruins, museums and statues document years of war, the residents were warm and welcoming. Said Ms. Herman, "I got an incredible education and left with a lifetime of memories."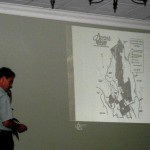 David Brant, Executive Director of the Aspetuck Land Trust, spoke at the WWC's September Luncheon today. David talked about the history of the Land Trust and its preservation efforts and new initiatives, including the recently opened 38 acre Newman Poses Nature preserve, honoring Paul Newman and Lillian Poses; the new Natural Playground for Children; invasive plant removal campaign; guided hikes for adults, and their new hike series for kids, They receive land through donations, conservation easements, and purchases. "Preservation is the Result, people are the cause."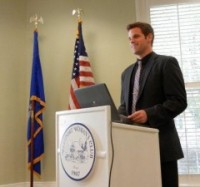 The Westport Woman's Club hosts FULL COURT PEACE FOUNDER, MICHAEL EVANS
Michael Evans, founder of and Executive Director of Full Court Peace, addressed the Westport Woman's Club at their June 6 luncheon.  Full Court Peace is a non-profit devoted to the proposition that at-risk youths from diverse backgrounds who compete together can become positive agents of change in their communities.
While in eight grade, Michael played on a traveling basketball team that integrated youth from the more affluent Fairfield County communities with students from less privileged towns.  Learning first hand how difficult life was for others had a lasting impact on him.   After graduating from Hamilton College in 2005, where he played for and captained the Men's Varsity Basketball Team, Michael moved to Northern Ireland.  There he pursued a semi-professional basket­ball dream, coupled with community work in Belfast, the nation's capitol and the world's most segregated city. Michael shared the story of how he formed the "Belfast Blazers," the first ever high school basketball team comprised of an equal number of Cath­olic and Protestant members. These youth were from extremely segregated backgrounds and neighborhoods and were tied directly to the city's terrorist groups. The team went on to lose just one game in their controversial season together and built lasting bonds that bridged the segregation and hostility inherent in their communities. Several film companies are now considering the story of the "Belfast Blazers" for feature film production.
Michael has since gone on to explore the role of basketball in other troubled societies, founding Full Court Peace and developing programs in Ciudad Juarez, Mexico, the world's deadliest city, and Havana, Cuba.
Michael is now planning to bring his brand of bridge building and team building closer to home.  Fairfield County has one of the widest achievement gaps in the country.  Youth from neighboring towns and cities have drastically different public education and athletic experiences – creating diversity and boundaries that mirror the challenges that Michael has seen abroad.  Full Court Peace is planning on launching a new program, based on their successful international program, in Stamford, CT.  To learn more about Full Court Peace and to support their work, you can visit www.fullcourtpeace.org.
Michael was selected by CNN's seg­ment "Young People Who Rock" in 2009.  He has been selected to be a blogger for the Huffington Post, where he writes about the politics of sports in Mexico, Northern Ireland and the rest of the world. Michael is a 2005 graduate from Hamilton College, a recent graduate from Harvard's Kennedy School and the Graduate School of Education and was a Graduate Assistant of the Men's Basketball Team. The Harvard Crim­son won its first Ivy League title in school history.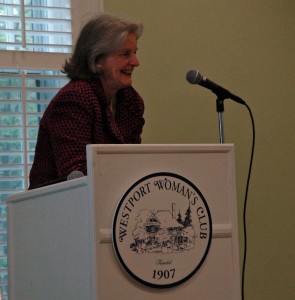 Natalie Ryshna Maynard, Concert Pianist, Addresses the Westport Woman's Club
Natalie Ryshna Maynard, concert pianist and educator, was the guest speaker at the Westport Woman's Club May Club Day luncheon.  Ms. Maynard spoke about the life of Olga Samaroff Stokowski, the "Eleanor Roosevelt of classical music in America," sharing some of her personal memories of Ms. Stokowski and the musical era she influenced.
Ms. Maynard's relationship with Stokowski began when she attended the Philadelphia Conservatory of Music, and won a seven-year Fellowship at the Juilliard Graduate School of Music to study piano with Sascha Gorodnitzki and Olga Samaroff Stokowski.  Ms. Stokowski summered in Westport in the 1940's and prepared her Juilliard students in a rehearsal barn on North Avenue. She became the most famous woman concert artist of her time. She actively promoted the career of her husband, conductor Leopold Stokowski, and was largely responsible for catapulting his conducting career to international acclaim.
Ms. Maynard, who now teaches music to students in Westport, contributed to and performs in the recently released DVD "American Virtuoso" about Olga Samaroff Stokowski.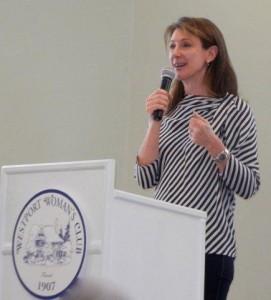 Author Jane Green Addresses the Westport Woman's Club
Jane Green, the bestselling author of 12 novels, addressed the Westport Woman's Club at their April Club Day luncheon.  Ms. Green, a Westport resident, shared some anecdotes about her life as a writer, and gave insight into the inspiration for her latest novel, "Promises to Keep." 
Ms. Greens' novels draw on themes from the experiences and people who decorate her life without being biographical.  "Promises to Keep" is built from her real life experience with a friend who was diagnosed with stage four breast cancer and the journey of friendship and personal growth she took with her during her illness. Ms. Green put aside much of her daily life to be there for her friend, doing everything from going to doctor appointments to cooking almost daily meals for her family.  It was an experience that brought her to understand that love is a verb.  "Loving requires acts of love.  Love is about showing and doing," said Ms. Green.  From this experience, she has crafted a novel that celebrates life. The story is punctuated with recipes from her personal collection that she prepared for her friends' family.
20% of all royalties from "Promises to Keep" are being donated to City of Hope, a clinical research hospital whose mission is to bring the newest, most promising therapies to cancer treatments without delay.  "They are responsible for developing many of the most effective drugs and treatments available for cancer today," shared Ms. Green.
The Westport Woman's Club Learns What's New and What's Next From David Pogue
David Pogue, personal-technology columnist for the New York Times and award-winning tech correspondent for CBS News entertained a full house at the Westport Woman's Club luncheon February 7. 
David used his trademark comic approach to understanding new technology and its impact and influence on our society to deliver a thoughtful and entertaining presentation.  His hilarious insights included how smart phones and Web 2.0 have changed our approach toward learning and personal interactions, and the profound effect they are having driving the on-demand, real time expectations of the next generation.  He concluded with two of his song spoofs – take offs of popular songs with new lyrics based on the computer industry.
David's writing, reporting and spoof song renditions can be enjoyed by anyone who visits his website, www.davidpogue.com.  David can also be seen hosting the new PBS Nova mini-series "Making Stuff" where he explores the materials that will shape our future. 
The Westport Woman's Club Kicks Off The Holiday Giving Season
The Sedgwick Family Singers helped the Westport Woman's Club kick off the holiday season performing at their December Club Day luncheon.  The four Sedgwick women entertained a full house with all the holiday standards, including A Christmas Song and White Christmas before debuting their rendition of the new holiday classic, "All I Want for Christmas is You."  This talented, playful group can be seen performing throughout Fairfield County.
In keeping with the spirit of the season, over $1200 was raised at the luncheon to benefit the WWC's Holiday Gift Card and Holiday Catered Meal programs.  These programs, done in conjunction with the Town's Department of Human Services, will benefit over 490 Westporters this year.  The WWC welcomes any contributions to support this important work.